You are currently browsing the category archive for the 'Booze' category.
One of the things about food blogging is that if you don't eat well, you don't have anything to say. So far, this has proven to be an advantage for us– I don't want strangers to write me off as a food-loser, so I step up and perform. Usually. However, there's a flip side. If you aren't eating well, your blog ends up covered in pictures of robots (I'm sorry I keeping linking back to us. Is it weird to link to yourself?).
And frozen pizza? You're not supposed to know we eat those kinds of things. And if we do tell you, we're not supposed to tell you it's not good. We should be eating gourmet frozen pizzas, maybe made by hand by an Italian nonna and shipped directly to us from Naples. Certainly we shouldn't be eating robot pizzas. At least Carlo's drawing turned out well. I like the robot. Check out his ice cream cone hat and his pizza-slice hands. He's an Italian for sure.
Yesterday's dinner may have been an eating low point for us, but the dessert didn't let us down. I got the idea for a Guinness ice cream in the comments thread at another blog (sorry, I don't remember which one–this is how you know you read too many blogs). Our favourite Montreal brewery occasionally has a special stout that Carlo is particularly fond of– a Chocolate Vanilla Stout. Thus, in thinking about Guinness ice cream, I came to Chocolate Stout. Now, the triumphal part is the thing I didn't really consider before we tasted our first bite. Stout is a malty drink. So the end result here is a creamy, malty, sweet concoction that tastes like chocolate malt all dressed up for grownups. Don't you love it when you hit on genius by accident?
I can't wait to try this recipe again. Next time I make it, I might tweak the proportions to see if I can make it more ice cream-y. As is, it has almost the exact same consistency as the chocolate malts I remember from fast food restaurants (Wendy's!). Mine turned out quite light, and not very custardy, as I used 1% milk and few egg yolks. I think you could use half and half, for example, or another egg yolk could be added to make a thicker custard base. The chocolate bar we used was Lindt "Noirissime," with 99% cocoa. We used very little, just enough to add a chocolate flavour, and it added no sweetness. Next time, I might try a sweet chocolate and maybe dial back the sugar just a little. This is delicious as-is, but I can't wait to see what else I can do with it! Let me know if you have any ideas.
STOUT CHOCOLATE MALT ICE CREAM
Makes approximately 1.5 quarts
1 bottle of stout (341 mL, 12 oz)–I used an Oatmeal stout from McAuslan, a local brew, but feel free to play around with your options here
1 tbsp. cocoa powder
1/2 vanilla bean
2 cups heavy cream
2 cups milk
3/4 cup sugar
5 egg yolks
Bring the stout to a boil in a small saucepan, and boil it until it thickens (maybe to 1/2 its original volume), 15 mins. or so. It might froth up. If it does, take it off the heat for a few seconds before replacing it on the burner. When the beer has reduced, allow it to cool for a few minutes and then whisk in the cocoa powder. Split the vanilla bean and scrape the seeds into the chocolate/beer. Drop the scraped pod in too, and set it all aside to steep.
Prepare an ice bath by placing ice cubes and water into a large steel bowl. Set the bowl aside.
Prepare the creme anglaise. Whisk the egg yolks in a bowl. Combine the cream, milk, and sugar over medium heat in a small saucepan. Bring the cream just to a boil, then whisk it in a slow stream into the egg yolks. When the yolks are combined with the cream, pour the mixture back into the saucepan and put it back over medium heat. Cook it, stirring constantly, until the mixture thickens and coats the back of your wooden spoon.
Strain the creme anglaise into a medium steel bowl through a fine mesh strainer. Strain the beer mixture into the bowl as well, discarding the vanilla pod. Whisk the beer and cream mixtures together, then cool your ice cream base by placing the medium steel bowl into the larger prepared ice bath. Cool the mixture by stirring it for about five minutes over the ice bath. At this point, you can freeze the mixture immediately (at this point, it will be slightly less smooth. It also tastes great–I know, because we almost always are too impatient to wait), or chill the mixture further in the fridge until you are ready to freeze it.
Welcome back to Booze Stereo, delayed gratification edition. Last week, I talked about impulsive food prep (does a cocktail count as food? Not so much, I guess). As soon as I read about apple vermouth cocktail on Serious Eats (original recipe from Paul Clarke), I knew I had to have it. You know when a taste springs into your mind fully formed? Yeah, that's what I had. Of course, after my impulsive assembly of ingredients, I had to wait and allow my sliced apples to steep in a litre of vermouth for five days. We finally got to taste our concoction on Saturday, when we cracked open the bottle as a brunch accompaniment.
My expectations were totally warranted. This cocktail is fruity without being froufy, as the herbal notes of the vermouth tone down the apple flavours and add a bit of sophistication. It was a great brunch drink as it was nice and light. I wish I had one of these, because I think it would be amazing fizzy. But maybe that would be over the top.
The assembly was very easy too. I made the executive decision to leave the skins on the apples, because I wanted the vermouth to pick up a nice pink colour, which it did. There was a bit of sediment in the final product after I strained it through just a fine-mesh strainer. However, I also strained it through several layers of cheesecloth and after that it came out nice and clear (see the above picture), with a beautiful coral pink tint. Another change to the recipe that I'd recommend is to reduce the number of apples. On Serious Eats, the number of apples was 8. I only used five. I had one mason jar full to the brim with apples and vermouth, and another jar that was only half-full. Next time, I'd fill two jars 3/4 full, as I found that the apples browned less in the jar that wasn't full to the brim. I'm not sure why, but it worked better that way, maybe just because the apple-to-vermouth proportion was lower.
This was an altogether satisfying experience. I can't wait to make another batch!
Just to let you know, if you google "booze stereo," we are the first link that comes up. And I probably just made it worse by posting this. Um… that is, if anyone ever again in the history of the internet uses that exact search term. I'm going to assume that whoever found us that way didn't find what they were looking for.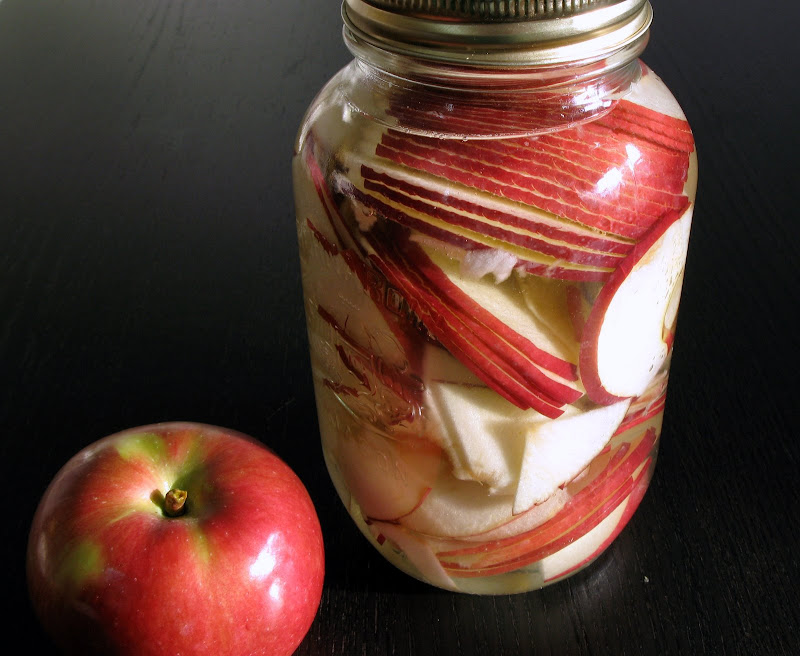 I work from home, which is usually pretty great, but is not always the enviable position you might imagine. Often it means that there's no escape from work, and I'll find myself lounging on the couch watching TV in the evenings, worrying about the pile of work sitting accusingly on the table next to me. However, one great advantage (slash disadvantage) is that when an idea strikes me I can go ahead and do it. And, because I'm a great procrastinator and I welcome any distraction, I usually do it immediately. Case in point: this apple vermouth cocktail. I read the recipe on serious eats an hour ago and I knew I had to try it. A jog to the grocery store (and two liquor stores) later, it's sitting in the fridge. I'm not much of a patience kind of person, I guess. I do, however, have to wait at least five days to try this out. We'll let you know how is tastes next week.
p.s. As I don't have a mandoline, I used the slicer of my food processor to do the work. You could also slice the apples by hand. Also, the recipe doesn't specify whether or not to peel the apples, so I didn't.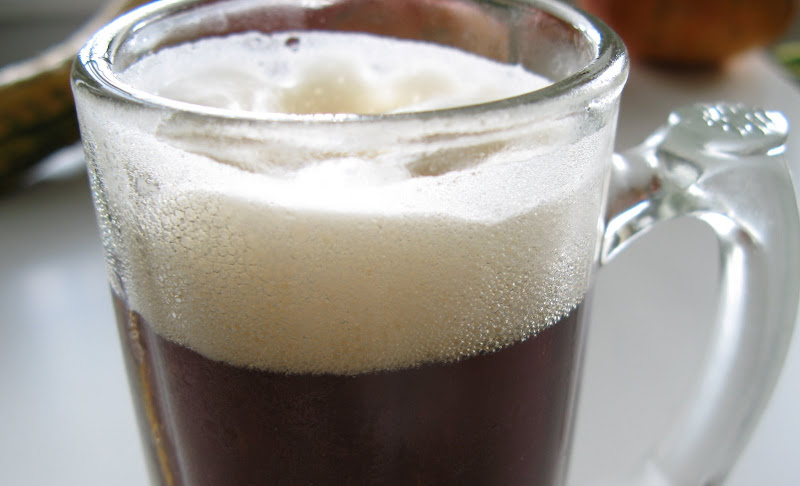 Here's a quick trick we learned from our favorite food friends– the frosty mug. Whenever we go over to their place, they serve us beer in a heavy glass that has come straight out of their freezer. This is enormously satisfying in the summertime, but it's still useful as we head into winter. The best part about this hack is that it works to chill your only slightly-cooled beer. For Canadian winters, this means that your beer, already half-chilled just from carrying it home, can be cooled to a perfect temperature just by pouring it into your frosty, frosty mug. If you want your not-so-cold beer NOW, give it a try.

Originally posted May 19th.
Tonight I'm off to barter a 6-pack of McAuslan's St-Ambroise Pale Ale for my coworker's friend's pasta. This Quebec brew has been my beer of choice for the past two years in Montreal, especially during the NHL playoffs. I wrung many McAuslan necks last year cheering (like this nutter via Deadspin) my Oilers to game 7 of the heartbreaking Stanley Cup Final. I nearly wrung the neck of a fellow hockey watcher (not fan) when he figured cheering for the Hurricanes and sharing my beer was an acceptable combo. I told him to put my beer back in the fridge, that cheering for the 'Canes because their city is closer to Montreal than Edmonton was ludicrous and finally, childishly, that 'Canes captain Rob Brind'Amour gave even the French a bad name (here's his ugly mug under the beautiful one…I still hurt). It was a bad night. Maybe my surrogate Sens will fair better this year.
Anyway. I should have figured out this whole beer for food deal sooner. Tomorrow, friends recently back from a long trip in Argentina are coming over, WITH FOOD. All I have to do is hit my corner store (called dépanneurs or deps here) for some beer and dinner's served. Only two days to go until Hanne gets back and I've finally gotten the hang of feeding myself.